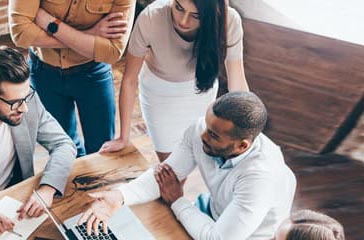 How to grow your business
Why choose AFM Services?
Whether an individual or a business owner, when it comes to your finances, great service, trust, professionalism and integrity – backed up by open communication – makes all the difference. Since 1995, we've carved out a reputation among our clients in Adelaide and across Australia as being very different to the average accounting firm. Get in touch today and find out how we differ.
Our Reviews
Very friendly and helpful. Will be returning for all our needs.

Porsha


07-Dec-2018

Great service reliable and resolves all your issues recommended highly.

Alex Miktovski


07-Jul-2023

Experienced and professional in all of their services.

Dominic Pepicelli


07-Jul-2023

Great service. Makes you feel important no matter what question you ask

Rosette Zerella


07-Dec-2018

The two best things about AFM is their family culture and the service they provide customers is impeccable! Very professional, reliable and overall a great firm

Casey Fraser


07-Jun-2023

The staff where very help full and helped me with my tax in areas I didn't no about for my business Thanks for your help

Tim Hazeldene


07-Jul-2023

Fantastic, very switched on and informed but still listen to everything I have to say. They've been a real education on how to save and or make money. They've done me well .

Michael Svensson


07-Dec-2022

I have been coming to AFM for many years for my end of year tax processing and have been happy with the experience.

Victor Besz


07-Dec-2022

Fantastic, advice service and experience given

Ken Anderson


07-Jul-2023

Have been using AFM for over 10 years now for all our business accounting and very happy with their service.

Brendon Whiting


07-Dec-2018

Great bunch of people and made my life much easier at a reasonable cost. I never felt rushed and they were really focused on improving my operation and relevant processes. Thanks again guys, see you soon

Matt Glaister


07-Dec-2018

My 2021 tax return was lodged with information relating to another client. This error was only picked up when lodging my 2022 tax return. Not only is this a huge privacy breach, I have ended up with a large debt because of their error.

senior1000rr


07-Apr-2023

always a pleasure to have my tax business sorted by Erin at AMF. pleasantly fun but sharp on the deductions...good job Erin

RED DEVIL


07-Dec-2022

AFM have always provided our business with a very high level of service and advice. Professional, reliable, and highly recommended.

Kirsty Newman


07-Dec-2022

Wouldn't go anywhere else. simon is the go to guy for all your tax needs. Helpful, friendly and professional…thx 4 everything, you guys are stuck with me now lol

Ren Sommers


07-Dec-2022

Fantastic staff and excellent service. I highly recommend them.

Trav


07-Dec-2022

Great Team to be associated with, very friendly and knowledgeable always trying their best especially the AFM Wealth Management Team.

John K


07-Jul-2023

Friendly stafe, Excellent advice. I have been using AFM Services for over 25 years for personal and business needs. Would not go anywhere else

ursula reardon


07-Dec-2022

I have been a customer of AMF Services for a few years now. I am exceptionally happy with my tax returns. I have received more money in my returns since I have started using this service.

Lana Gill


07-Dec-2022

AFM offer excellent services and support to their clients. The team at AFM are professional, kind, thorough and genuinely passionate about helping customers.

Tasha Jones


07-Jul-2023